Sonia Sidhu's Private Member's Bill C-237, An Act to establish a national framework
On Feb. 26, 2021, Liberal MP Sonia Sidhu's Private Member's Bill C-237, An Act to establish a national framework for diabetes will go on to third reading.  The bill is designed to "support improved access to diabetes prevention and treatment to ensure better health outcomes for Canadians." Over 18 years in the health care field is what has directed MP Sonia Sidhu's work in the House of Commons.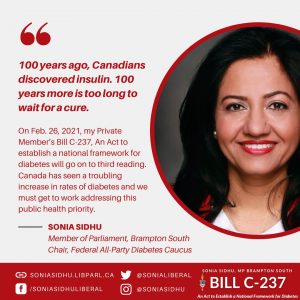 MP Sonia Sidhu is optimistic that Bill C-237 will be supported unanimously so that Canada can get to work developing a national diabetes framework. Her bill goes to third reading later this month.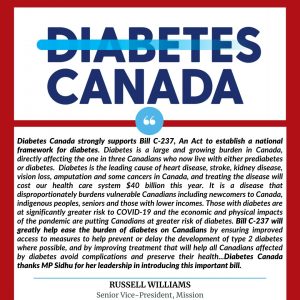 "In 2012, one in 10 residents in my Region was living with type 2 diabetes. By 2018, this had increased to one in six. I have been fortunate to be able to work on this issue extensively during my time in Parliament, and I am looking forward to advancing my Private Member's Bill this month. Bill C-237 will improve the health of those 11 million Canadians living with diabetes and it is a privilege to elevate these issues. Canada must continue working towards becoming the birthplace of a cure for diabetes!" — Sonia Sidhu, Member of Parliament for Brampton South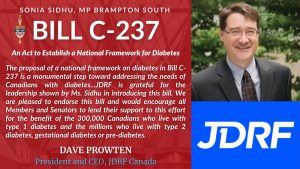 MP Sonia Sidhu is proud to have support on this bill from organizations and individuals such as Diabetes Canada, JDRF Canada, the CNIB Foundation, Peel's Medical Officer of Health's Dr. Lawrence Loh, and Dr. Naveed Mohammed of William Osler Hospital.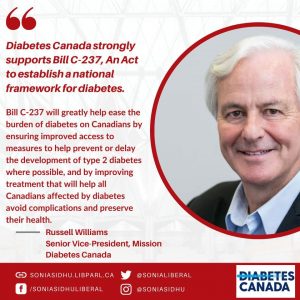 MP Sonia Sidhu's Journey to Bill C-237 
In 2017 she toured Canada, meeting with a wide range of diabetes stakeholders as part of Canada's revisions to the Canada Food Guide.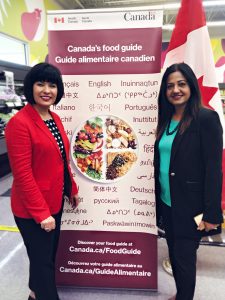 That work resulted in the Health Committee report "Defeating Diabetes," which encourages the promotion of healthy eating as a prevention method.



She also successfully advocated the City of Brampton to declare November as Diabetes Awareness Month, and the 14th as Diabetes Day.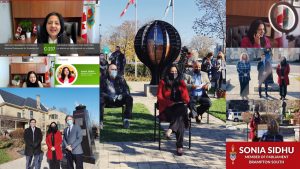 In the spring of 2019, she was proud to bring forward the unanimously supported motion to declare November as Diabetes Awareness Month in Canada.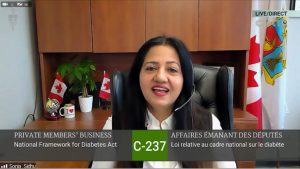 In this Parliament, her work on diabetes continues. 100 years ago, Canadians discovered insulin. 100 years more is too long to wait for a cure. COVID-19 has further demonstrated how diabetes places a huge burden on Canada's health care system. There is no single solution to addressing this public health priority and Canada must explore all avenues. Parliamentarians of all stripes must take strides together towards overcoming this disease.